2022 SCL Northern Online Zone





On Sunday, 20th March the first 2022 School Chess League (SCL) tournament was held Online using lichess an internet chess server. This event was sponsored by Warwick Psychological Services. There were two separate tournaments catering for both the Primary and Secondary schools. A total of 76 players took part.

This was the first Online tournament for the Schools Chess League in Western Australia. It involved the following: -

i) A trial run two days before the tournament.
ii) A lot of work in setting up on the morning of the tournament. Each player had to set up a front and side camera.
iii) Primary and Secondary students were split up into two separate breakout rooms. The players were supervised on Zoom with each player participating from home.
iv) The players were supervised by nine arbiters, three of which were from Malaysia.

The two tournaments went well with several parents staying behind at the end of the tournament and providing positive feedback on zoom.

This was a learning experience for all players, parents and supervisors. It turned out to be a valuable and successful one. The Chess Association of WA are prepared to hold future SCL tournaments Online. A provisional date for the next SCL online tournament has been set as Sunday, 1st May.



Primary Student Division

Primary School Team Ranking
(Team ranking based on 4 best players of each team)



 Pos  Team Name          Points  
 ------------------------------ 
   1  Oberthur PS         17.0
   2  Carmel PS           16.5
   3  Kingsway CC         12.0
   4  Midland Home Sc     11.0
   5  Caladenia PS         8.0
   6  Victoria Park P      6.0
   7  Rosalie PS           5.5
   8  Nedlands PS          5.0
   9  Highgate PS          5.0
  10  Burrendah PS         4.0
  11  Sutherland Dian      4.0
  12  John Wollaston       4.0
  13  St Anthony's         4.0
  14  Wesley College       3.0
  15  Harrisdale PS        3.0
  16  Iona PC              3.0
  17  North Morley PS      3.0
  18  Bambara PS           3.0
  19  Mount Lawley PS      2.5
  20  Shelley PS           2.5
  21  St Columba's S       2.0



Primary School Individual Cross Table
(Players who had no Lichess rating were ascribed a rating of 1500 to assit the tournament pairing system)



 Pos NAME                         Rtg  Pts |   1     2     3     4     5     6     7   |  Buc1  BucT  
 --------------------------------------------------------------------------------------------------- 
  1  Anthony Nguyen              1547  6.0 | +W23  +B20  -W5   +B10  +W7   +B2   +W6   |  28.0  31.0 
  2  Kobe Wu                     1498  5.5 | +B8   +B11  +W3   +B5   +W6   -W1   =B4   |  31.5  35.5 
  3  Liam Raptis                 1822  5.5 | +W13  +B7   -B2   =W4   +B12  +W9   +B11  |  28.5  32.5 
  4  Angus Chen                  1500  5.5 | =B14  +W28  +B35  =B3   +W5   +W11  =W2   |  27.0  29.0 
  5  Ezra Levine                 1379  5.0 | +B9   +W12  +B1   -W2   -B4   +W17  +B15  |  29.5  33.5 
  6  Bruce Yu                    1438  5.0 | +W27  +B30  +W22  +B21  -B2   +W8   -B1   |  24.5  26.5 
  7  Nithuli Liyanage            1500  5.0 | +B33  -W3   +B31  +W15  -B1   +W20  +B12  |  24.5  26.0 
  8  Mia Cohen                   1500  4.5 | -W2   +B24  +W33  +B22  +W21  -B6   =W10  |  24.0  25.5 
  9  Leo Gong                    1500  4.5 | -W5   =W19  +B34  +B30  +W16  -B3   +W22  |  23.0  25.0 
 10  Sebastian Walker            1500  4.5 | +B29  +W31  -B21  -W1   +B18  +W24  =B8   |  22.5  24.5 
 11  Dominic Davoll              1641  4.0 | +B28  -W2   +W36  +B13  +W20  -B4   -W3   |  26.0  28.0 
 12  Avan Chung                  1500  4.0 | +W37  -B5   +W26  +B16  -W3   +B21  -W7   |  25.5  27.0 
 13  Yonatan Kitay               1500  4.0 | -B3   +W14  +B32  -W11  -B17  +W30  +B24  |  23.0  24.5 
 14  Mia Smit                    1500  4.0 | =W4   -B13   --   =W34  +B26  +B23  +W25  |  22.0  24.0 
 15  Sidharth Ramavarman         1057  4.0 | -W22  +B27  +W30  -B7   +W23  +B25  -W5   |  21.5  23.5 
 16  Nicholas Khoo               1500  4.0 | +B24  -W21  +B17  -W12  -B9   +W32  +B20  |  21.5  23.0 
 17  Charis Ong                  1500  4.0 | -W20  +B23  -W16  +B33  +W13  -B5   +W28  |  21.5  23.0 
 18  Aadhi Ajith                 1500  4.0 | -W30  +B25  -W20  +B32  -W10  +B19  +W21  |  19.0  20.5 
 19  Samantha Walker             1500  3.5 | -W36  =B9   +W37  -B20  +B35  -W18  +W29  |  17.5  19.0 
 20  Marcus Van Den Berg         1416  3.0 | +B17  -W1   +B18  +W19  -B11  -B7   -W16  |  27.0  30.5 
 21  Akshaj Rahul                1023  3.0 | +B26  +B16  +W10  -W6   -B8   -W12  -B18  |  26.0  29.0 
 22  Akash Ashok                 1500  3.0 | +B15  +W32  -B6   -W8   -B24  +W27  -B9   |  23.5  25.0 
 23  Ford Cu                     1500  3.0 | -B1   -W17  +B27  +W31  -B15  -W14  +B30  |  23.0  25.0 
 24  Timofey Klimenko            1391  3.0 | -W16  -W8   +B29  +B37  +W22  -B10  -W13  |  22.0  23.5 
 25  Samara Cavosie-Pletsch      1500  3.0 | -B31  -W18  +B28  +W26  +B36  -W15  -B14  |  20.0  22.0 
 26  Savana Hevawitharanage      1500  3.0 | -W21  +W29  -B12  -B25  -W14  +W31  +B32  |  18.5  20.0 
 27  Oz Caro                     1500  3.0 | -B6   -W15  -W23  +BYE  +B31  -B22  +W33  |  18.5  20.0 
 28  Linda Hernandez Mende       1500  2.5 | -W11  -B4   -W25  =B29  +W37  +W35  -B17  |  20.5  22.0 
 29  Yojit Dhilipkumar           1500  2.5 | -W10  -B26  -W24  =W28  +BYE  +B36  -B19  |  18.5  20.0 
 30  Sayan Kotecha               1500  2.0 | +B18  -W6   -B15  -W9   +W33  -B13  -W23  |  24.5  26.0 
 31  Arianne Koay                1100  2.0 | +W25  -B10  -W7   -B23  -W27  -B26  +B35  |  21.0  23.0 
 32  Hunter Slater                620  2.0 | +BYE  -B22  -W13  -W18  +B34  -B16  -W26  |  21.0  23.0 
 33  Jensyn Slater                991  2.0 | -W7   +BYE  -B8   -W17  -B30  +W34  -B27  |  20.5  22.5 
 34  Tate Wincey                 1500  2.0 | -W35  =B37  -W9   =B14  -W32  -B33  +W36  |  16.0  17.5 
 35  Jak Penny                   1060  1.5 | +B34  =B36  -W4    --   -W19  -B28  -W31  |  19.5  21.5 
 36  Jonathan Liu                1500  1.5 | +B19  =W35  -B11   --   -W25  -W29  -B34  |  18.5  20.5 
 37  Grace Woodbine          (W) 1500  1.5 | -B12  =W34  -B19  -W24  -B28  +BYE   --   |  17.5  18.5 





The 37 players were from 21 different schools. It was a very closely contested tournament from both a school and individual player perspective. Two schools fought it out for the first place with Oberthur Primary School (last year's Primary School winners) narrowly beating Carmel Primary School by half a point. Newcomers Kingsway Christian College came third. Several schools have the potential to be in the top three placings if they had fielded a full team or four players rather than just one or two players.

The individual contest was equally close. At the start of the last round there were four players leading on 5 points. Angus Chen, Anthony Nguyen, Kobe Wu, and Bruce Yu. Angus and Kobe drew and Anthony beat Bruce, leaving Anthony the outright winner. Kobe was the Best Girl competitor.

As well as Kobe there were several strong performances from the following girls, Mia Cohen (Carmel PS), Nithuli Liyange (Nedlands PS) and Mia Smit and Charis Ong both girls from Kingsway Christian College. The results of the latter two helped their school secure third place.

List of School Prize Winners:

1st: Oberthur Primary School - Angus Chen, Leo Gong, Avan Chung, Phong Duc (Ford) Cu & Jonathan Liu (the first four players as the best school performers receive trophies)

2nd: Carmel Primary School - Ezra Levine, Mia Cohen, Yonaton Kitay, Marcus Van Der Berg & Oz Caro (the first four players as the best school performers receive trophies)

3rd: Kingsway Christian College - Mia Smit, Charis Ong, Sayan Kotecha, Arianne Koay & Grace Woodbine (the first four players as the best school performers receive trophies)

List of Individual Prize Winners:

1st: Anthony Nguyen (6.0/7)
2nd: Kobe Wu (5.5/7)
3rd: Liam Raptis (5.5/7)
Merit trophies to: Angus Chen, Ezra Levine, Bruce Yu, Nithuli Liyange, Mia Cohen, Leo Gong & Sebastian Walker
Best Girl: Kobe Wu (5.5/7)



Secondary Student Division

Secondary School Team Ranking
(Team ranking based on 4 best players of each team)



 Pos  Team Name          Points  
 ------------------------------
   1  Perth Modern Sc     17.0
   2  Rossmoyne SHS       16.0
   3  Wesley College      12.0
   4  Shenton College     10.0
   5  Christchurch Gr      8.0
   6  Bob Hawke Colle      8.0
   7  Aveley Sec Coll      6.0
   8  Midland Home Sc      5.0
   9  Leeming SHS          5.0
  10  Kingsway CC          5.0
  11  Melville SHS         4.0
  12  Kalamunda SHS        4.0
  13  Carmel School        4.0
  14  Aquinas College      3.0
  15  Sacred Heart Co      3.0
  16  Trinity College      1.0



Secondary School Individual Cross Table
(Players who had no Lichess rating were ascribed a rating of 1500 to assit the tournament pairing system)



 Pos NAME                         Rtg  Pts |   1     2     3     4     5     6     7   |  Buc1  BucT  
 --------------------------------------------------------------------------------------------------- 
  1 Yihe Fu                      2225  7.0 | +B36  +W21  +B5   +W6   +B2   +W13  +B10  |  27.0  27.5 
  2 Oscar Gao                    2217  6.0 | +W16  +B12  +W7   +B4   -W1   +W5   +B6   |  31.0  35.0 
  3 Jin Yu Lim                   1500  6.0 | +W33  -B4   +W32  +B15  +W7   +B38  +W14  |  22.0  23.0 
  4 Celine Ong                   2183  5.0 | +B22  +W3   +B8   -W2   -B5   +W9   +B11  |  31.0  34.0 
  5 Iker Hernandez Mendez        1705  5.0 | +B18  +W23  -W1   +B11  +W4   -B2   +W15  |  30.0  33.0 
  6 Shannon Koh                  2013  5.0 | +W30  +B31  +W11  -B1   +W12  +B8   -W2   |  28.0  30.0 
  7 Asten Sulak                  1500  5.0 | +B9   +W10  -B2   +W23  -B3   +W17  +B21  |  27.5  30.5 
  8 Gijoon Han                   1500  5.0 | +W35  +B14  -W4   +B17  +W10  -W6   +B13  |  25.5  27.5 
  9 Windson Tang                 1071  5.0 | -W7   +B34  +W31  +B38  +W30  -B4   +W24  |  19.0  20.0 
 10 James Savundra               1980  4.0 | +W39  -B7   +W30  +W13  -B8   +B16  -W1   |  27.5  29.5 
 11 Ning Xiaozhou                1498  4.0 | +B20  +W26  -B6   -W5   +B21  +B12  -W4   |  26.0  29.0 
 12 Adam Chung                   1500  4.0 | +B15  -W2   +B18  +W25  -B6   -W11  +B26  |  26.0  29.0 
 13 Aaron Levine                 1790  4.0 | +B25  +W32  +W17  -B10  +W22  -B1   -W8   |  25.5  27.5 
 14 Paula Gruber                 1522  4.0 | +B28  -W8   -B25  +W18  +B24  +W22  -B3   |  24.0  27.0 
 15 Manunithish Dhilipkumar      1208  4.0 | -W12  +B39  +B21  -W3   +B23  +W26  -B5   |  24.0  26.5 
 16 Jiani Li                     1500  4.0 | -B2   +W28  -B23  +B32  +W19  -W10  +B20  |  24.0  26.0 
 17 Andrew Gilleece              1037  4.0 | +BYE  +W27  -B13  -W8   +B25  -B7   +W30  |  23.0  25.0 
 18 Aarnav Katru                 1411  4.0 | -W5   +B19  -W12  -B14  +W35  +B33  +W29  |  22.0  24.0 
 19 Ethan Kelly                  1994  4.0 | -B27  -W18  +B26  +W28  -B16  +W25  +B22  |  20.0  23.0 
 20 Yasmina Cavosie-Pletsch      1736  4.0 | -W11  +B24  +W27  -B22  +W38  +B30  -W16  |  19.0  20.0 
 21 Siddharth Sankara            1500  3.0 | +W24  -B1   -W15  +B31  -W11  +B37  -W7   |  25.0  26.0 
 22 Flynn Williams               1500  3.0 | -W4   +B35  +W33  +W20  -B13  -B14  -W19  |  23.0  25.0 
 23 Tharul Ranamuka              1381  3.0 | +W34  -B5   +W16  -B7   -W15  -B24  +W31  |  23.0  25.0 
 24 Harris Imran                 1335  3.0 | -B21  -W20  +B29  +B27  -W14  +W23  -B9   |  22.0  25.0 
 25 Ablai Devine                 1500  3.0 | -W13  +B37  +W14  -B12  -W17  -B19  +W33  |  21.5  22.5 
 26 Lukas Willinge               1699  3.0 | +W38  -B11  -W19  +B35  +W27  -B15  -W12  |  21.0  22.0 
 27 Samin Intisar                1500  3.0 | +W19  -B17  -B20  -W24  -B26  +W34  +B32  |  19.5  21.5 
 28 Matthew Champness            1360  3.0 | -W14  -B16  +W37  -B19  +W32  -B29  +W34  |  19.0  20.0 
 29 Bee Barnes                   1277  3.0 | -W31  -B30  -W24  +B34  +W36  +W28  -B18  |  16.0  16.5 
 30 Nathan Bannister             1500  2.0 | -B6   +W29  -B10  +W33  -B9   -W20  -B17  |  24.5  26.5 
 31 Cota Ng                      1500  2.0 | +B29  -W6   -B9   -W21  -B33  +W35  -B23  |  21.0  23.0 
 32 Mohit Napaa                  1500  2.0 | +W37  -B13  -B3   -W16  -B28  +B36  -W27  |  21.0  21.5 
 33 Taksheel Kadri               1302  2.0 | -B3   +W36  -B22  -B30  +W31  -W18  -B25  |  20.0  20.5 
 34 Dron Singh                   1500  2.0 | -B23  -W9   +B38  -W29  +W37  -B27  -B28  |  18.0  19.0 
 35 Saqib Yasar                  1139  2.0 | -B8   -W22  +B36  -W26  -B18  -B31  +W37  |  18.0  18.5 
 36 Isabelle Kerr                1500  1.0 | -W1   -B33  -W35  -B37  -B29  -W32  +BYE  |  17.0  17.0 
 37 Phoenix Trott                 946  1.0 | -B32  -W25  -B28  +W36  -B34  -W21  -B35  |  15.0  15.5 
 38 Gavi Hesselson           (W) 1382  0.0 | -B26   --   -W34  -W9   -B20  -W3    --   |  23.5  24.5 
 39 Raadin Ebadi             (W) 1500  0.0 | -B10  -W15   --    --    --    --    --   |  17.0  18.0 





The 39 players were from 16 different schools. Perth Modern School (last year's Secondary School winners) fielded 12 players and came first. Very close behind them were Rossmoyne Senior High School with a team of only three players. Third was Wesley College, also with only three players. The placings are decided by adding the scores of the top four players. Hence if Rossmoyne and Wesley had fielded a full complement of four players, they may have enhanced their position in this tournament. The same point is applicable to Shenton College, Christchurch Grammar School and Bob Hawke College who finished 4th to 6th respectively, each school had only two players.

The individual contest was dominated by Yihe Fu (Rebo) who obtained a perfect score of 7 from 7. Not too far behind Rebo was Oscar Gao and Jin Yu Lim both on 6 from 7. Oscar secured 2nd place with a superior Buchholz score to Jin. The Best Girl competitor was Celine Ong with 5 from 7. Newcomers Aten Sulak, Gijoon Han and Windson Tang all did well to gain 5 from 7. As well as SCL veterans Iker Hernandez Mendez and Shannon Koh.

List of School Prize Winners:

1st: Perth Modern School - Windson Tang, Adam Chung, Paula Gruber, Andrew Gilleece, Ethan Kelly, Yasmina Cavosie-Pletsch, Siddharth Sankara, Tharul Ranamuka, Bee Barnes, Mohit Napaa, Taksheel Kumar Kadri, Saqib Yasar & Raadin Ebadi (the first four players as the best school performers receive trophies)

2nd: Rossmoyne Senior High School - Yihe Fu (Rebo), Gijoon Han & Manunithish Dhilipkumar

3rd: Wesley College - Shannon Koh, James Savundra & Lukas Willinge

List of Individual Prize Winners:

1st: Yihe Fu (Rebo) (7.0/7)
2nd: Oscar Gao (6.0/7)
3rd: Jin Yu Lim (6.0/7)
Merit trophies to: Celine Ong, Iker Hernandez Mendez, Shannon Koh, Asten Sulak, Gijoon Han & Windson Tang
Best Girl: Celine Ong (5.0/7)







The Chess Association of WA decided to run this tournament on the basis "nothing ventured nothing gained". We were fortunate to have an excellent team working together. Special thanks to the following people:

* Our Malaysian arbiters: Lim Poay Sim, Saiful Asyraf & David Lee (based in Penang) whose experience with setting up Online tournaments gave us the confidence to run this event. Tan Eng Seong also helped with the initial organisation but was unable to participate as an arbiter as he contacted Covid just prior to the tournament. We wish him a speedy recovery.
* Junior Vice-President Faith Tee who heard about this Malaysian group and contacted them to discuss their assistance and involvement. Faith also did most of the work in contacting the various Perth schools prior to the tournament; secured a sponsor for the tournament and ordered the trophies plus acted as an Arbiter during the tournament.
* Senior Vice-President Andrew Hardegen who provided detailed instructions to players for setting up the tournament, was one of the key figures in helping to set up the equipment for the tournament and acted as one of the principal tournament arbiters with Lim Poay Sim.
* Perth Arbiters: Sri Krishna Dharmapuri, Dylan Gough, Kruhuru Sailaga & Alan Wolstencroft.
* Our sponsor: Warwick Psychological Services.

Report kindly provided by CAWA President Alan Wolstencroft



---




2022 SCL Central Zone




On Sunday, 15th May the first over the board 2022 School Chess League tournament (the Central Zonal) was held at Royal Park Hall, West Perth. There was a good turnout of 64 players (43 Primary students and 21 Secondary students). Despite living in the shadow of Covid, there is still a strong interest in over the board Junior chess in Perth.



Primary Student Division

Primary School Team Ranking
(Team ranking based on 4 best players of each team)



 Pos  Team Name          Points  
 -------------------------------
  1  Oberthur PS         16.5
  2  Caladenia PS        15.5
  3  Midland Home PT      9.5
  4  Nedlands PS          9.0
  5  Aquinas College      8.0
  6  Kingsway Christ      8.0
  7  Wesley College       8.0
  8  Poynter PS           6.5
  9  Victoria Park P      6.0
 10  Sutherland Dian      5.5
 11  JWACS                5.0
 12  Rostrata PS          5.0
 13  Mount Lawley PS      4.0
 14  Dalkeith PS          4.0
 15  Subiaco PS           4.0
 16  Aveley PS            4.0
 17  Harrisdale PS        4.0
 18  North Morley PS      3.5
 19  Willetton PS         3.0
 20  Bayswater PS         3.0
 21  Shelley PS           3.0
 22  St Anthony's PS      3.0

Primary School Individual Cross Table

 Pos NAME                       Rtg  T  Fed  Pts |   1     2     3     4     5     6     7   |  Buc1  BucT  
 --------------------------------------------------------------------------------------------------------- 
  1  Raptis,Liam                925      WA  6.5 | +W33  +B24  +W10  +B6   =W4   +B2   +W5   |  28.5  31.0 
  2  Nguyen,Anthony            1145      WA  6.0 | +B3   +W7   +B14  +W8   +B6   -W1   +B10  |  31.5  35.5 
  3  Gong,Leo                     0      WA  6.0 | -W2   +B29  +W15  +B10  +W12  +B17  +W4   |  27.5  30.5 
  4  Davoll,Dominic             580      WA  5.5 | +B40  +W11  +B9   +W14  =B1   +W8   -B3   |  30.5  32.0 
  5  Walker,Sebastian           388      WA  5.0 | +W29  +B15  -W6   +B16  +W13  +B9   -B1   |  28.5  31.5 
  6  Liyanage,Nithuli           882      WA  5.0 | +B20  +W23  +B5   -W1   -W2   +B25  +W11  |  28.5  31.5 
  7  Ashok,Akash                  0      WA  5.0 | +W36  -B2   +W13  -B23  +W16  +B15  +W12  |  25.5  28.5 
  8  Dai,Hardy                  777      WA  5.0 | +W39  +B25  +W12  -B2   +W23  -B4   +W18  |  25.5  27.5 
  9  Ajith,Aadhi                355      WA  5.0 | +W34  +B37  -W4   +B36  +W17  -W5   +B13  |  24.0  25.5 
 10  Ong,Charis                 412      WA  4.0 | +B42  +W18  -B1   -W3   +B32  +B23  -W2   |  28.5  29.5 
 11  Thumati,Mano Keyur           0      WA  4.0 | +W19  -B4   +W27  -B12  +B14  +W21  -B6   |  26.5  29.5 
 12  Perera,Kaviru              361      WA  4.0 | +B38  +W35  -B8   +W11  -B3   +W20  -B7   |  26.5  28.5 
 13  You,Kaixuan                  0      WA  4.0 | +B30  +W21  -B7   +W24  -B5   +B19  -W9   |  26.0  29.0 
 14  Atkinson,Hamish            473      WA  4.0 | +W16  +B26  -W2   -B4   -W11  +B28  +W23  |  25.5  28.0 
 15  Yuen,Thomas                  0      WA  4.0 | +B22  -W5   -B3   +W40  +B24  -W7   +B33  |  25.0  26.5 
 16  Nguyen,Catherine             0      WA  4.0 | -B14  +B19  +W37  -W5   -B7   +W24  +B25  |  24.0  25.5 
 17  Li,Isaac                   420      WA  4.0 | -B23  +W40  +B38  +W26  -B9   -W3   +B30  |  22.0  23.5 
 18  Walker,Samantha              0      WA  4.0 | +W27  -B10  -W24  +B39  +B26  +W22  -B8   |  21.5  23.5 
 19  Gunawardena,Jineth         100      WA  4.0 | -B11  -W16  +B22  +W38  +B31  -W13  +B32  |  21.5  23.5 
 20  Koay,Arianne                 0      WA  4.0 | -W6   -B36  +W41  +B37  +W28  -B12  +W27  |  19.5  21.0 
 21  Hou,Olivia                 413      WA  4.0 | +W41  -B13  -W23  +B34  +W25  -B11  +W26  |  19.0  20.5 
 22  Cu,Ford (Phong Duc)          0      WA  3.5 | -W15  =B41  -W19  +B43  +W33  -B18  +W35  |  18.5  19.0 
 23  Ramavarman,Sidharth          0      WA  3.0 | +W17  -B6   +B21  +W7   -B8   -W10  -B14  |  27.0  31.0 
 24  Bandara,Chenuthi             0      WA  3.0 | +W28  -W1   +B18  -B13  -W15  -B16  +W37  |  25.0  26.5 
 25  Calo,Sebastian               0      WA  3.0 | +B32  -W8   +B28  +W31  -B21  -W6   -W16  |  24.0  26.5 
 26  De Santis,Enrico             0      WA  3.0 | +B31  -W14  +B35  -B17  -W18  +W38  -B21  |  21.5  23.5 
 27  Balachander,Rahul            0      WA  3.0 | -B18  +W42  -B11  -W32  +B35  +W31  -B20  |  20.5  21.5 
 28  Wen,Phoebe                   0      WA  3.0 | -B24  +BYE  -W25  +W30  -B20  -W14  +B41  |  19.5  21.0 
 29  Solthi,Sai Shrevas           0      WA  3.0 | -B5   -W3   -B40  +B41  +W34  -W30  +B38  |  19.5  21.0 
 30  Dhilipkumar,Yojit            0      WA  3.0 | -W13  +B34  -W36  -B28  +W37  +B29  -W17  |  19.0  20.5 
 31  Yip,Jonathan                 0      WA  3.0 | -W26  +B39  +W33  -B25  -W19  -B27  +W42  |  17.5  18.5 
 32  Whitfield,Spencer            0      WA  3.0 | -W25  -B33  +W43  +B27  -W10  +B42  -W19  |  17.5  18.0 
 33  Kang,Kevin                   0      WA  2.5 | -B1   +W32  -B31  =W35  -B22  +W40  -W15  |  22.5  24.0 
 34  Tan,Josephine                0      WA  2.5 | -B9   -W30  +BYE  -W21  -B29  =B41  +W43  |  18.5  19.0 
 35  Zhang,Aaron                  0      WA  2.5 | +W43  -B12  -W26  =B33  -W27  +B39  -B22  |  18.0  18.5 
 36  Tiang,Jovan           (W)    0      WA  2.0 | -B7   +W20  +B30  -W9    --    --    --   |  24.5  27.5 
 37  Zhou,David                   0      WA  2.0 | +BYE  -W9   -B16  -W20  -B30  +W43  -B24  |  22.0  22.5 
 38  Tan,Joanna                   0      WA  2.0 | -W12  +B43  -W17  -B19  +W39  -B26  -W29  |  20.0  20.5 
 39  Lim,Jamie                    0      WA  2.0 | -B8   -W31  +B42  -W18  -B38  -W35  +B40  |  18.0  19.0 
 40  Liu,Jonathan                 0      WA  1.5 | -W4   -B17  +W29  -B15  =W42  -B33  -W39  |  21.0  22.0 
 41  Slater,Hunter                0      WA  1.5 | -B21  =W22  -B20  -W29  =B43  =W34  -W28  |  19.0  19.5 
 42  Slater,Jensyn                0      WA  1.5 | -W10  -B27  -W39  +BYE  =B40  -W32  -B31  |  16.5  18.0 
 43  Gentilli,Daniel              0      WA  0.5 | -B35  -W38  -B32  -W22  =W41  -B37  -B34  |  14.5  16.0 
 44  Zhang,Aaron           (W)    0      WA  0.0 |  --    --    --    --    --    --    --   |  16.5  17.5 





There were 43 players from 22 schools. It developed in to a closely contested fight between Caladenia Primary School and Oberthur Primary School. In the end Oberthur won by a solitary point, (the announcement made at the presentations on Sunday was incorrect as it did not include a win by one of the Oberthur players). Caladenia came second a very good performance for what is a relative newcomer to the SCL. Midland Home school with three players came third and Nedlands Primary School was fourth with just two players.

The individual contest was also close. Going into the last round Liam Raptis and Dominic Davoll were leading with 5.5 points followed by Leo Gong, Anthony Nguyen and Sebastian Walker on 5 points. Liam beat Sebastian, Dominic lost to Leo and Anthony beat Charis Ong. Hence Liam was the outright winner on 6.5 points, Anthony was second on 6 points (Buchholz score) and Leo was third on 6 points. Good performance by Nithuli Liyange who won the Best Girl title with 5 points.

List of Primary School Prize Winners:

1st: Oberthur Primary School - Leo Gong, Kaixuan You, Ford (Phong Duc) Cu, Phoebe Wen, Jonathan Yip, Josephine Tan, Jovan Tiang, David Zhou, Joanna Tan, and Jonathan Liu (the first four players as the best school performers received trophies)

2nd: Caladenia Primary School - Sebastian Walker, Samantha Walker, Jineth Gunawardena and Kevin Kang (all four players received trophies)

3rd: Midland Home School - Liam Raptis, Hunter Slater and Jensyn Slater (all three players received trophies)

List of Individual Primary Prize Winners:

1st: Liam Raptis (6.5/7)
2nd: Anthony Nguyen (6.0/7) (on the Buchholz score)
3rd: Leo Gong (6.0/7)
Merit trophies to: Dominic Davoll (5.5 points), Aadhi Ajith, Akash Ashok, Hardy Dai, Nithuli Liyange and Sebastian Walker on 5.0 points
Best Girl: Nithuli Liyange on 5.0 points



Secondary Student Division

Seconary School Team Ranking
(Team ranking based on 4 best players of each team)



 Pos  Team Name          Points  
 ------------------------------ 
  1  Rossmoyne SHS       16.5
  2  Perth Modern S      16.5
  3  Christchurch GS     10.5
  4  Wesley College       6.0
  5  Kingsway CS          5.0
  6  Shenton College      4.5
  7  Greenwood Colle      4.0
  8  Bob Hawke C          4.0
  9  Midland Home ST      3.5
 10  Carine SHS           3.0
 11  Mt Lawley SHS        2.5

Secondary School Individual Cross Table

 Pos NAME                           Rtg   T  Fed  Pts |   1     2     3     4     5     6     7   |  Buc1  BucT  
 -------------------------------------------------------------------------------------------------------------- 
  1  Fu,Yihe (Rebo)                 2392      WA  7.0 | +B19  +W13  +B4   +W3   +B2   +W7   +B5   |  26.0  27.5 
  2  Gao,Oscar                      1982      WA  5.5 | +W7   +B8   +W3   +B5   -W1   +B14  =W4   |  29.0  32.0 
  3  Ong,Celine                     1297      WA  5.0 | +F23  +W9   -B2   -B1   +W8   +B16  +B7   |  27.5  30.5 
  4  Singh,Jayden                      0      WA  5.0 | +W14  +B12  -W1   +B8   +W15  =B5   =B2   |  27.5  30.0 
  5  Lim,Jin Yu                        0      WA  4.5 | +B10  +W11  +B13  -W2   +B9   =W4   -W1   |  29.0  31.5 
  6  Tang,Windson                      0      WA  4.5 | -W15  -B7   +BYE  =W11  +B21  +W9   +B17  |  19.0  19.5 
  7  Lee,Lucas                         0      WA  4.0 | -B2   +W6   +B10  +B12  +W16  -B1   -W3   |  28.5  31.5 
  8  McGinty,Sean                    679      WA  4.0 | +B17  -W2   +B21  -W4   -B3   +W18  +B11  |  24.0  24.5 
  9  Devine,Ablai                      0      WA  4.0 | +W21  -B3   +W15  +B18  -W5   -B6   +W14  |  21.0  21.5 
 10  Gruber,Paula                    967      WA  4.0 | -W5   +B15  -W7   +B19  -W14  +B20  +W16  |  18.5  20.0 
 11  Kit,Jaykerm                     712      WA  3.5 | +W18  -B5   -W16  =B6   +W13  +B12  -W8   |  21.5  24.0 
 12  Sulak,Asten                     804      WA  3.5 | +B20  -W4   +B17  -W7   =B18  -W11  +W19  |  19.5  21.0 
 13  Ranamuka,Tharul                 295      WA  3.0 | +W16  -B1   -W5   -B15  -B11  +BYE  +W18  |  23.0  24.5 
 14  Chong,Seth                        0      WA  3.0 | -B4   -W17  +B19  +W21  +B10  -W2   -B9   |  23.0  23.5 
 15  Dhilipkumar,Manunithish           0      WA  3.0 | +B6   -W10  -B9   +W13  -B4   -W17  +BYE  |  22.5  24.5 
 16  Thong,Sebastian                   0      WA  3.0 | -B13  +W20  +B11  +W17  -B7   -W3   -B10  |  21.5  23.0 
 17  Rendalls,George                   0      WA  3.0 | -W8   +B14  -W12  -B16  +W20  +B15  -W6   |  20.0  21.5 
 18  Prasil,Lukas                      0      WA  2.5 | -B11  +W19  +B20  -W9   =W12  -B8   -B13  |  19.0  20.5 
 19  Koay,Isaac                        0      WA  2.0 | -W1   -B18  -W14  -W10  +BYE  +B21  -B12  |  21.0  21.5 
 20  Nand-Lal,Isaac                    0      WA  2.0 | -W12  -B16  -W18  +BYE  -B17  -W10  +W21  |  17.5  18.0 
 21  Tiang,Jayden                      0      WA  1.0 | -B9   +BYE  -W8   -B14  -W6   -W19  -B20  |  19.0  20.5 





The 21 players were from 11 different schools. It developed into a closely fought contest between Rossmoyne Senior High School and Perth Modern School. The two schools finished with the same cumulative points but Rossmoyne were the winners on countback. Third was Christchurch Grammar School.

Yihe Fu (Rebo) dominated the individual contest with a perfect score of 7/7. Oscar Gao was second and third and Best Girl was Celine Ong.

List of School Prize Winners:

1st: Rossmoyne Senior High School- Yihe Fu (Rebo), Jaykerm Kit, Seth Chong, Manunithish Dhilipkumar and Jayden Tiang (the first four players as the best school performers received trophies)

2nd: Perth Modern School - Jayden Singh, Windson Tang, Paula Gruber and Tharul Ranamuka (all four players received trophies)

3rd: Christchurch Grammar School - Oscar Gao, Sebastian Thong and Isaac Koay (all three players as the best school performers received trophies)

List of Individual Prize Winners:

1st: Yihe Fu (Rebo) (7.0/7)
2nd: Oscar Gao (5.5/7)
3rd: Celine Ong (5.0/7)
Merit trophies to: Jayden Singh (5.0/7), Lucas Lee, Jin Yu Lim and Windson Tang on 4.5 points
Best Girl: Celine Ong (5.0/7)

Special thanks to the following people: Faith Tee, Junior Vice-President who located this excellent new venue, and who did a lot of preparatory work as well as work on the day to make this tournament the success it was. Glenda Raptis and Kevin Ong who played significant support roles on the day. Jessie Kong and Dylan Gough helped out with at the beginning with registration and setting up the equipment.

Report kindly provided by CAWA President Alan Wolstencroft



---




2022 SCL South Zone



Sunday the 12th June saw the return of the School Chess League with the biggest turnout to the Southern Zonal with a record 115 young students spanning from 34 schools.

The event was held at the beautiful venue of Sadler Centre, Corpus Christi College and was only made possible with the assistance of many diligent helpers who displayed their skills in necessary areas such as registration, arbitering and set up/pack up.

Special thanks must go to the following people for their involvement on the day:

Dylan Gough - Senior Arbiter, set up and announcer, Jason Gray - Assistant to arbiter with the Secondary students, John Pimenov - Technology and arbiter, Glynis Raptis - Registration, database and result taking, Merylena Sulak - Registration, database and result taking, Faith Tee - Consultant and organiser, Stacey Walker - Registration, database and result taking & Alan Wolstencroft - Arbiter and coordinator



Primary Student Division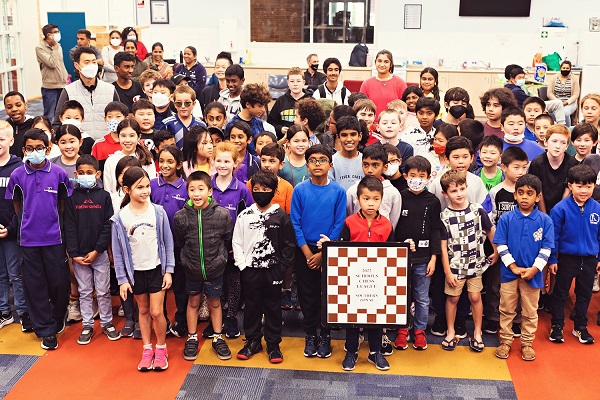 Primary School Team Ranking
(Team ranking based on 4 best players of each team)



 Pos  Team Name          Points  
 ------------------------------ 
  1   Nedlands PS         20.5
  2   Caladenia PS        20.0
  3   Mt Lawley PS        18.0
  4   Lake Joondalup      18.0
  5   Oberthur PS         17.5
  6   Rostrata PS         16.5
  7   Wesley College      14.5
  8   Midland Home S      10.5
  9   Richmond PS          8.0
 10   Kardinya PS          8.0
 11   Willetton PS         7.5
 12   Harrisdale PS        7.0
 13   Aquinas College      6.0
 14   Winthrop PS          5.5
 15   Shelley PS           5.0
 16   John Wollaston       4.0
 17   Salvado CC           4.0
 18   St Andrew GS         3.5
 19   Booragoon PS         1.0

Primary School Individual Cross Table

 Pos NAME                 Rtg   T  Fed  Pts |   1     2     3     4     5     6     7   |  Buc1  BucT  
 ---------------------------------------------------------------------------------------------------- 
  1  Majidi,Issa          1234      WA  7.0 | +B47  +W23  +B7   +W6   +B21  +W2   +B4   |  29.5  32.5 
  2  De Vas,Yonal         1203      WA  6.0 | +B12  +W40  +B11  +W9   +B3   -B1   +W8   |  33.0  36.0 
  3  Deng,Eric            1229      WA  6.0 | +W43  +B26  +W14  +B20  -W2   +W5   +B7   |  29.0  32.0 
  4  Dai,Hardy             723      WA  5.5 | +B56  +W17  +B24  =W5   +B9   +W6   -W1   |  31.0  34.0 
  5  Raptis,Liam          1255      WA  5.5 | +W41  +B16  +W8   =B4   +W15  -B3   +B11  |  30.5  33.5 
  6  De Vas,Senudi         689      WA  5.0 | +W27  +B22  +W19  -B1   +W20  -B4   +W21  |  28.5  32.5 
  7  Ashok,Akash           527      WA  5.0 | +W70  +B57  -W1   +B18  +W26  +B19  -W3   |  28.0  29.0 
  8  Gong,Leo              597      WA  5.0 | +B50  +W49  -B5   +W40  +B10  +W24  -B2   |  26.5  29.5 
  9  Liyanage,Nithuli      899      WA  5.0 | +W58  +B39  +W25  -B2   -W4   +B22  +W19  |  26.5  28.5 
 10  Bandara,Chenuthi        0      WA  5.0 | +W59  -B15  +W28  +B25  -W8   +B20  +B24  |  25.5  27.5 
 11  Atkinson,Hamish       473      WA  5.0 | +W45  +B34  -W2   +B41  +W42  +B21  -W5   |  25.0  28.0 
 12  Dhilipkumar,Yojit       0      WA  5.0 | -W2   +B35  -W16  +B68  +W44  +B26  +W25  |  25.0  26.5 
 13  Richards,Huw          630      WA  5.0 | +W48  +B18  -W20  -B22  +W39  +B41  +W23  |  22.5  25.5 
 14  Walker,Sebastian      487      WA  4.5 | +B46  +W32  -B3   -W21  +B29  =W18  +B34  |  26.5  29.5 
 15  Majidi,Nizam          688      WA  4.5 | +B62  +W10  -B21  +W17  -B5   +W40  =B16  |  26.5  28.5 
 16  You,Kaixuan           232      WA  4.5 | +W28  -W5   +B12  +B44  -W19  +B45  =W15  |  26.0  29.0 
 17  Gunawardena,Jineth    100      WA  4.5 | +W30  -B4   +W27  -B15  +W28  =B35  +W38  |  25.5  29.0 
 18  Balakumar, Dhiyan       0     AUS  4.5 | +B36  -W13  +B52  -W7   +B31  =B14  +W35  |  25.5  28.5 
 19  King,Gavrie Merson    352      WA  4.0 | +B29  +W33  -B6   +W51  +B16  -W7   -B9   |  28.0  30.5 
 20  Perera,Kaviru         286      WA  4.0 | +B65  +W54  +B13  -W3   -B6   -W10  +B36  |  27.5  29.5 
 21  Chung,Avan            331      WA  4.0 | +W68  +B69  +W15  +B14  -W1   -W11  -B6   |  27.5  28.5 
 22  Li,Jeremy             100      WA  4.0 | +B31  -W6   +B36  +W13  -B24  -W9   +B50  |  26.5  29.5 
 23  Cong,Kevin            141      WA  4.0 | +W35  -B1   +W43  -B42  +W27  +B30  -B13  |  26.5  29.5 
 24  Ajith,Aadhi           415      WA  4.0 | +W67  +B42  -W4   +B34  +W22  -B8   -W10  |  26.0  28.0 
 25  Addison,William       439      WA  4.0 | +B72  +W52  -B9   -W10  +B46  +W38  -B12  |  24.5  25.0 
 26  Lizza-Blackbee,Zak    145      WA  4.0 | +B63  -W3   +B46  +W59  -B7   -W12  +B45  |  24.0  26.0 
 27  Giles,Caleb             0      WA  4.0 | -B6   +W31  -B17  +W52  -B23  +W46  +B42  |  23.5  26.5 
 28  Mahon,Dylan             0      WA  4.0 | -B16  +W47  -B10  +W49  -B17  +W53  +B40  |  23.0  26.0 
 29  Lau,James               0     AUS  4.0 | -W19  -BYE  +B61  +B37  -W14  +W55  +B39  |  21.5  24.0 
 30  Mulasikwanda,Sepo       0     AUS  4.0 | -B17  +B58  -W39  +W53  +B32  -W23  +B51  |  21.0  23.0 
 31  O'Connor,Xander         0      WA  4.0 | -W22  -B27  +W67  +B43  -W18  +B58  +W41  |  20.5  22.5 
 32  Darmadinata,Sho         0     AUS  4.0 | +W37  -B14  =W60  =B57  -W30  +B59  +W44  |  19.5  21.5 
 33  Walker,Griffin          0     AUS  4.0 | +W71  -B19  -W34  =B48  +W60  =B39  +W43  |  18.5  19.5 
 34  Calo,Sebastian          0      WA  3.5 | +B38  -W11  +B33  -W24  =B36  +B42  -W14  |  24.5  27.5 
 35  Minh Chu,Huy            0     AUS  3.5 | -B23  -W12  +B62  +W47  +B51  =W17  -B18  |  23.5  25.5 
 36  Singh,Harvigas          0     AUS  3.5 | -W18  +B48  -W22  +B58  =W34  +B57  -W20  |  21.5  23.5 
 37  Wang,Jessica            0     AUS  3.5 | -B32  -W46  +B50  -W29  +B47  +W56  =B48  |  20.5  23.5 
 38  Suresh Kumar,Ridhun     0     AUS  3.5 | -W34  +B70  +W64  =B39  +W57  -B25  -B17  |  19.5  20.5 
 39  Lizza-Blackbee,Finn   138      WA  3.0 | +B66  -W9   +B30  =W38  -B13  =W33  -W29  |  26.0  28.0 
 40  Balakumar, Deesithan    0     AUS  3.0 | +W44  -B2   +W45  -B8   +W66  -B15  -W28  |  25.5  27.5 
 41  De Santis,Enrico        0      WA  3.0 | -B5   +W63  +B54  -W11  +B59  -W13  -B31  |  24.5  26.5 
 42  Walker,Samantha         0      WA  3.0 | +B53  -W24  +B72  +W23  -B11  -W34  -W27  |  23.5  24.0 
 43  Dhanak,Ishaan           0     AUS  3.0 | -B3   +W66  -B23  -W31  +B65  +W54  -B33  |  23.0  25.0 
 44  Rahul,Akshaj            0     AUS  3.0 | -B40  +W56  +B55  -W16  -B12  +W49  -B32  |  22.5  25.5 
 45  Kang,Kevin              0      WA  3.0 | -B11  +W61  -B40  +W54  +B55  -W16  -W26  |  22.5  25.0 
 46  Kariyakarawana, Dinu    0     AUS  3.0 | -W14  +B37  -W26  +B69  -W25  -B27  +W64  |  22.0  23.0 
 47  Deng,Amy                0     AUS  3.0 | -W1   -B28  +W71  -B35  -W37  +B69  +W57  |  21.5  22.5 
 48  Hofmann,Cya             0     AUS  3.0 | -B13  -W36  +B63  =W33  -B49  +W60  =W37  |  21.0  23.0 
 49  Chen,Jennifer           0     AUS  3.0 | +W60  -B8   -W59  -B28  +W48  -B44  +W63  |  19.0  21.0 
 50  Hernandez Mendez,Lin    0      WA  3.0 | -W8   -B60  -W37  +B61  +W68  +B64  -W22  |  19.0  20.5 
 51  Cu,Ford (Phong Duc)     0      WA  3.0 | -B54  +BYE  +W69  -B19  -W35  +B66  -W30  |  19.0  20.0 
 52  Slater,Jensyn           0      WA  3.0 | +W64  -B25  -W18  -B27  -W58  +B72  +B62  |  18.5  19.0 
 53  Chong,Emma              0      WA  3.0 | -W42  +B68  -W57  -B30  +W62  -B28  +W66  |  17.5  19.0 
 54  Yan, Xuerui             0     AUS  3.0 | +W51  -B20  -W41  -B45  +W71  -B43  +W58  |  17.5  18.5 
 55  Brown,Parker            0     AUS  3.0 | -W57  +B67  -W44  +B60  -W45  -B29  +W65  |  17.0  19.0 
 56  Gia Chu,Han             0     AUS  3.0 | -W4   -B44  -W68  +B71  +W69  -B37  +W59  |  16.5  17.5 
 57  Sudheesh,Ishaan         0     AUS  2.5 | +B55  -W7   +B53  =W32  -B38  -W36  -B47  |  22.0  25.0 
 58  Flynn,Michael           0     AUS  2.0 | -B9   -W30  +B65  -W36  +B52  -W31  -B54  |  22.5  24.5 
 59  Slater,Hunter           0      WA  2.0 | -B10  +W62  +B49  -B26  -W41  -W32  -B56  |  22.0  24.0 
 60  Thornton,Felix          0     AUS  2.0 | -B49  +W50  =B32  -W55  -B33  -B48  =W68  |  20.0  21.5 
 61  Jack,Gabriel            0     AUS  2.0 |  --   -B45  -W29  -W50  +B67  -W65  +W72  |  18.5  19.0 
 62  Grant,Connor            0     AUS  2.0 | -W15  -B59  -W35  +W72  -B53  +B68  -W52  |  17.5  18.0 
 63  Liu,Jonathan            0      WA  2.0 | -W26  -B41  -W48  +B67  -W64  +B70  -B49  |  17.0  18.0 
 64  Batay,Faruk             0     AUS  2.0 | -B52  +W65  -B38  -W66  +B63  -W50  -B46  |  16.5  18.5 
 65  Lim,Zechariah           0     AUS  2.0 | -W20  -B64  -W58  +B70  -W43  +B61  -B55  |  16.5  17.5 
 66  Malpass,Sophie          0     AUS  2.0 | -W39  -B43  +W70  +B64  -B40  -W51  -B53  |  16.5  17.5 
 67  Kennedy,Priya           0     AUS  2.0 | -B24  -W55  -B31  -W63  -W61  +B71  +W70  |  16.5  17.5 
 68  Madison,Navias          0     AUS  1.5 | -B21  -W53  +B56  -W12  -B50  -W62  =B60  |  20.0  22.0 
 69  Yu,Haram                0     AUS  1.5 | +BYE  -W21  -B51  -W46  -B56  -W47  =B71  |  18.5  19.5 
 70  Holliday,Louis          0     AUS  1.0 | -B7   -W38  -B66  -W65  +B72  -W63  -B67  |  16.5  17.0 
 71  Choi,John               0     AUS  1.0 | -B33  =W72  -B47  -W56  -B54  -W67  =W69  |  16.0  16.5 
 72  Kennedy,Patra           0     AUS  0.5 | -W25  =B71  -W42  -B62  -W70  -W52  -B61  |  15.5  16.5 





The Primary school section saw a huge contingent, with 72 players from 19 different schools. Our highest turnout ever and a testament to the increasing popularity of chess in our Primary schools.

The extended playing numbers did not change the closeness of the event with several teams closely vying for the title. But in the end the final results were very tight with Mt Lawley Primary School and Lake Joondalup Baptist College tying for third on 18 points, (Mt Lawley gained 3rd place on a team count back). Second place was again taken by Caladenia Primary School with a great score of 20 points. It was only in the last round that they were overtaken by Nedlands Primary School, who took the lead and title by half a point on 20.5. Strong performances by Oberthur Primary School, Rostrata Primary School and Wesley College were not quite enough to get them in the top four spots. Well done to all players on the day.

The individual results also displayed close results with Nedlands player Issa Majidi (Nedlands PS) having a great day with a perfect picket fence score of 7 out of 7, closely followed by Yonal De Vas 2nd (Caladenia PS) on 6, Eric Deng (Lake Joondalup) 3rd also on 6. A strong performance by Senudi De Vas (Caladenia PS) saw her win the Best girl award with 5/7 just ahead of Nithuli Liyange (Nedlands PS) on the same score but with a lower Buchholz score. Merit awards went to: - Hardy Dai (Rostrata PS) 5.5, Liam Raptis (Midland Home School) 5.5, Senudi De Vas, (Caladenia PS), Akash Ashok, (Wesley College), Leo Gong, (Oberthur PS), Nithuli Liyanage, (Nedlands PS), Chenuthi Bandara, (Willetton PS), Hamish Atkinson, (Mt. Lawley PS), Yojit Dhilipkumar, (Shelley PS) and Huw Richards, (Mt. Lawley PS).



List of Primary School Prize Winners:

1st: Nedlands Primary School (20.5) - Issa Majidi (7.0), Nithuli Liyanage (5.0), Nizam Majidi (4.5), James Lau (4.0), Huy Minh Chu (3.5), Cya Hofmann (3.0), Emma Chong (3.0), Xuerui Yan (3.0), Han Gia Chu (3.0), Faruk Batay (2.0), Priya Kennedy (2.0), Patra Kennedy (0.5)

2nd: Caladenia Primary School (20) - Yonal De Vas (6.0), Senudi De Vas (5.0), Sebastian Walker (4.5), Jineth Gunawardena (4.5), Samantha Walker (3.0), Kevin Kang (3.0)

=3rd: Mt Lawley Primary School (18) - Hamish Atkinson (5.0), Huw Richards (5.0), Zak Lizza-Blackbee (4.0), Caleb Giles (4.0), Dylan Mahon (4.0), Finn Lizza-Blackbee (3.0), Linda Hernandez Mendez (3.0)

=3rd: Lake Joondalup Primary School (18) - Eric Deng (6.0), Kevin Cong (4.0), William Addison (4.0), Xander O'Connor (4.0), Amy Deng (3.0), Jennifer Chen (3.0), Sophie Malpass (2.0), Navias Madison (1.5)

The top four players from each of these teams won a trophy.

Well done again to all players involved. I hope you all enjoyed the day.






Secondary Student Division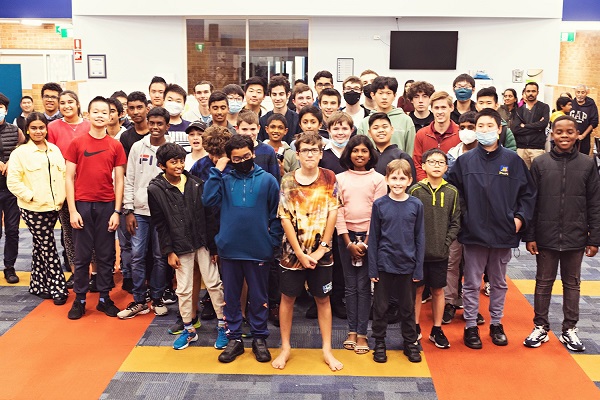 Secondary School Team Ranking
(Team ranking based on 4 best players of each team)



 Pos  Team Name          Points  
 ------------------------------ 
  1  Perth Modern        20.5
  2  Rossmoyne SHS       16.5
  3  Wesley College      16.0
  4  Harrisdale SHS      15.5
  5  Willetton SHS       12.5
  6  Bob Hawke Colle      8.0
  7  Lynwood SHS          7.0
  8  Guildford GGS        6.0
  9  Shenton College      5.5
 10  Lumen Christi C      4.0
 11  Midland Home S       4.0
 12  Christchurch GS      3.5
 13  Swan View SHS        3.5
 14  Melville SHS         2.0
 15  Richmond PS          0.0  

Secondary School Individual Cross Table

 Pos NAME                 Rtg   T  Fed  Pts |   1     2     3     4     5     6     7   |  Buc1  BucT  
 ---------------------------------------------------------------------------------------------------- 
  1  Gupta,Aarnav         1276      WA  6.0 | +B35  +W31  +B13  +W6   =B5   =W3   +B10  |  27.0  29.5 
  2  Chintushig,Chinbat      0     AUS  6.0 | -B5   +W37  +B27  +W28  +B20  +W8   +B4   |  25.0  27.0 
  3  Lim,Jin Yu           1157      WA  5.5 | +B40  +W16  =B4   +W17  +B6   =B1   =W5   |  29.5  30.0 
  4  Singh,Jayden         1308      WA  5.5 | +W38  +B32  =W3   +B7   +W12  +B5   -W2   |  28.5  30.5 
  5  Khaw,Eu Jin          1241      WA  5.0 | +W2   +B15  +W28  +B12  =W1   -W4   =B3   |  31.0  34.0 
  6  Hernandez Mendez,Ike 1392      WA  5.0 | +W23  +B9   +W14  -B1   -W3   +B27  +W13  |  28.0  31.0 
  7  Savundra,James        820      WA  5.0 | =B10  +W11  +B18  -W4   +W13  =B9   +W12  |  27.5  31.5 
  8  Chong,Seth              0      WA  5.0 | -B17  +W21  +B22  +B14  +W15  -B2   +W18  |  25.5  29.0 
  9  Tang,Windson          427      WA  5.0 | +B39  -W6   +B34  =W10  +B35  =W7   +B25  |  23.0  24.5 
 10  Deng,Harmoniche         0     AUS  4.5 | =W7   +B24  =W30  =B9   +B11  +W14  -W1   |  28.0  31.0 
 11  Kit,Jaykerm           695      WA  4.5 | =W24  -B7   +W29  +B36  -W10  +B23  +W22  |  23.0  25.5 
 12  Harirajesh,Barath    1326      WA  4.0 | +B34  +W22  +B17  -W5   -B4   +W20  -B7   |  26.5  29.0 
 13  Morton,Joseph           0     AUS  4.0 | +B26  +B30  -W1   +W31  -B7   +W21  -B6   |  26.0  29.0 
 14  Oliveiro,Rayden       670      WA  4.0 | +B29  +W20  -B6   -W8   +B16  -B10  +W27  |  25.0  28.0 
 15  Marshall,Daniel         0     AUS  4.0 | +B21  -W5   +B16  +W26  -B8   -B18  +W30  |  25.0  28.0 
 16  Amav,Pradhan            0     AUS  4.0 | +W19  -B3   -W15  +B43  -W14  +B28  +W24  |  24.0  25.5 
 17  McEvoy,James         1025      WA  4.0 | +W8   +B36  -W12  -B3   -W27  +B41  +W32  |  23.0  23.5 
 18  Sulak,Asten           722      WA  4.0 | -B20  +W40  -W7   +B42  +B31  +W15  -B8   |  21.5  22.0 
 19  Suresh Kumar,Sanjay     0     AUS  4.0 | -B16  -W34  +B40  -W27  +W41  +B29  +W36  |  15.5  16.0 
 20  Gee,Lachlan             0     AUS  3.5 | +W18  -B14  +W32  +B23  -W2   -B12  =B21  |  25.0  28.0 
 21  Chung,Adam            634      WA  3.5 | -W15  -B8   +W24  +B41  +W32  -B13  =W20  |  23.0  23.5 
 22  Ranamuka,Tharul       424      WA  3.5 | +B37  -B12  -W8   +W34  =B25  +W35  -B11  |  22.0  24.0 
 23  Ashok,Anish             0      WA  3.5 | -B6   +W39  +B25  -W20  =B26  -W11  +B37  |  22.0  23.5 
 24  Kealley,Ethan           0     AUS  3.5 | =B11  -W10  -B21  +W40  +B38  +W26  -B16  |  22.0  22.5 
 25  McGinty,Sean          766      WA  3.5 | +W44  -B28  -W23  +B38  =W22  +B36  -W9   |  20.5  22.5 
 26  Gough,Sebastian       487      WA  3.5 | -W13  +B29  +W38  -B15  =W23  -B24  +W34  |  20.5  22.5 
 27  Dhilipkumar,Manunith  424      WA  3.0 | -W28  +B33  -W2   +B19  +B17  -W6   -B14  |  26.0  29.0 
 28  Napaa,Mohit             0      WA  3.0 | +B27  +W25  -B5   -B2   -W36  -W16  +B42  |  24.0  25.0 
 29  Kettle,Hayden           0     AUS  3.0 | -W14  -W26  -B11  +B33  +W43  -W19  +B35  |  21.5  23.0 
 30  An,Borui              519      WA  3.0 | +B33  -W13  =B10  -W35  =B34  +W37  -B15  |  20.5  22.5 
 31  Devine,Ablai          398      WA  3.0 | +W42  -B1   +W41  -B13  -W18  -B34  +W38  |  19.5  20.0 
 32  Richards,Jamie        291      WA  3.0 | +B41  -W4   -B20  +W37  -B21  +W42  -B17  |  19.5  20.0 
 33  McLellan,Max            0     AUS  3.0 | -W30  -W27  -B37  -W29  +B42  +B40  +W41  |  12.5  13.0 
 34  Bongtiwon,Ethan Jaco    0     AUS  2.5 | -W12  +B19  -W9   -B22  =W30  +W31  -B26  |  23.0  26.0 
 35  Chen,Joseph             0     AUS  2.5 | -W1   +B42  =W36  +B30  -W9   -B22  -W29  |  23.0  24.0 
 36  Arunkumar,Ashwath       0     AUS  2.5 | +B43  -W17  =B35  -W11  +B28  -W25  -B19  |  21.5  23.0 
 37  Ralebhat,Sumedh         0     AUS  2.0 | -W22  -B2   +W33  -B32  +W39  -B30  -W23  |  22.0  23.5 
 38  Butcher,Alex            0     AUS  2.0 | -B4   +W43  -B26  -W25  -W24  +B39  -B31  |  20.5  22.0 
 39  Mulasikwanda,Limpo      0     AUS  2.0 | -W9   -B23  -W42  +BYE  -B37  -W38  +W40  |  15.0  15.5 
 40  Chokshi,Zia             0     AUS  1.0 | -W3   -B18  -W19  -B24  +BYE  -W33  -B39  |  21.5  22.5 
 41  Sohansa,Niyagama Gam    0     AUS  1.0 | -W32  +BYE  -B31  -W21  -B19  -W17  -B33  |  20.5  23.0 
 42  Ryroth, Ayra            0     AUS  1.0 | -B31  -W35  +B39  -W18  -W33  -B32  -W28  |  18.5  20.0 
 43  Worth,Zak        (W)    0     AUS  1.0 | -W36  -B38  +BYE  -W16  -B29   --    --   |  16.0  18.0 
 44  Gabriel,Jack     (W)    0     AUS  0.0 | -B25   --    --    --    --    --    --   |  16.0  17.0 





Despite the absence of some strong players who were playing in the State Championships being held at the same time, the Secondary school line-up still presented us with some strong games and some great chess. There were 44 student from 15 schools, more than double the numbers from the last zonal.

In the end, the two best teams from the previous zonal dominated this zonal to finish 1st and 2nd, but this time the results were reversed with Perth Modern coming up on top with a score of 20.5, the same score that won the Primary school division.

Rossmoyne Senior High School finished second with 16.5, with Wesley College closely behind on 16, to come in third.

The individual winners were Perth Modern's Aarnav Gupta and Lynwood Senior High School's Chinbat Chintushig both with fantastic scores of 6 out of 7. Aarnav came first with a better Buchholz. 3rd was Jin Yu Lim (Shenton College). Merit Awards were given to Jayden Singh, (Perth Modern), Eu Jin Khaw, (Harrisdale SHS), Iker Hernandez Mendez, (Bob Hawke College), James Savundra, (Wesley College), Seth Chong, (Rossmoyne ) and Windson Tang (Perth Modern). There was a three-way tie for Best Girl between Zia Choski, Ayra Ryroth and Sohansa Niyagama Gamage all from Harrisdale Senior High School.

List of Secondary School Prize Winners:

1st: Perth Modern School (20.5) - Aarnav Gupta (6.0), Jayden Singh (5.5), Windson Tang (5.0), Rayden Oliveiro (4.0), Adam Chung (3.5), Tharul Ranamuka (3.5), Mohit Napaa (3.0), Borui An (3.0)

2nd: Rossmoyne Senior High (16.5) - Seth Chong (5.0), Jaykerm Kit (4.5), Barath Harirajesh (4.0), Manunithish Dhilipkumar (3.0)

3rd: Wesley Senior High (16) - James Savundra (5.0), James McEvoy (4.0), Ethan Kealley (3.5), Sean McGinty (3.5), Joseph Chen (2.5)









Report kindly provided by Dylan Gough & Alan Wolstencroft



---




2022 SCL West Zone




On Sunday 31st July the CAWA (Chess Association of Western Australia) once again held a tournament under the banner of the School Chess League called the Western Zonal Tournament. This was the fourth and final instalment for the year and one that would determine the finalists, to play off for the title in August. Just as the Southern Zonal saw a record number of students descend upon Corpus Christi school, the Western Zonal again broke all records for attendance as 115 students signed up to play.

This event was held at the Nedlands Primary School's Altius Centre and the fluency of the event was thanks largely to tireless work of the organisers and volunteers who made the event the success it was. After a slow start and some small registration finalising, a successful seven round tournament was able to be held involving both Primary and Secondary students and some great chess was played.

Special thanks must go to the following people for their involvement on the day:

* Dylan Gough - Senior Arbiter, set up and announcer
* Jason Gray - assistant to arbiter with the Secondary students
* John Pimenov - Technology and arbiter
* Glenda Raptis - Registration, database and result taking
* Merylena Sulak - Registration, database and result taking
* Faith Tee - Consultant and organiser
* Stacey Walker - Registration, database and result taking
* Alan Wolstencroft - Arbiter and coordinator
* Josh Davoll and Jason Gray - Arbiters and Set Up adult helpers



Primary Student Division


Primary School Team Ranking
(Team ranking based on 4 best players of each team)



 Pos Team Name          Points
 -----------------------------
  1  Nedlands PS         20.0
  2  Midland HmS         20.0
  3  Oberthur PS         18.0
  4  Lk Joondalup BC     16.0
  5  Carmel              14.5
  6  Caladenia PS        14.5
  7  Kingsway CC         12.5
  8  Mt Lawley PS        12.0
  9  Wesley College       9.0
 10  Harrisdale PS        7.5
 11  Rostrata PS          7.0
 12  Perth Montessor      5.0
 13  Sutherland Dian      4.5
 14  Christchurch Gr      4.0
 15  Shelley PS           4.0
 16  Willetton PS         4.0
 17  Scotch College       4.0
 18  Wembley Downs P      3.5
 19  St Emilie PS         3.0
 20  Bentley PS           3.0
 21  Arbor Grove PS       3.0
 22  St Andrews GS        3.0
 23  Poynter PS           2.0

Primary School Individual Cross Table

 Pos NAME                           Rtg     Pts |   1     2     3     4     5     6     7   |  Buc1  BucT  
 -------------------------------------------------------------------------------------------------------- 
  1  Raptis,Liam                    1255    6.0 | +B45  +W24  +B11  =W3   =B6   +W4   +B7   |  30.5  33.5 
  2  Deng,Eric                      1229    6.0 | +B42  +W25  +B7   +W15  =B4   =W3   +B6   |  30.0  33.0 
  3  Chen,Angus                     1028    6.0 | +W47  +B22  +W10  =B1   +W16  =B2   +W14  |  30.0  33.0 
  4  Majidi,Issa                    1234    5.5 | +W51  +B38  +W8   +B14  =W2   -B1   +W20  |  28.5  31.5 
  5  Majidi,Nizam                    688    5.5 | +W35  =B16  +W37  =B19  +W12  =W9   +B15  |  26.5  29.5 
  6  Liyanage,Nithuli                899    5.0 | +B28  +W27  =B34  +W20  =W1   +B11  -W2   |  29.0  32.5 
  7  Van Den Berg,Marcus             565    5.0 | +W39  +B21  -W2   +B40  +W37  +B16  -W1   |  26.5  29.5 
  8  Kitay,Yonatan                   577    5.0 | +B57  +W32  -B4   +W25  =B33  +W17  =B9   |  26.5  28.5 
  9  Tang, Oliver                      0    5.0 | -B22  +W42  +B32  +W36  +W19  =B5   =W8   |  26.0  29.0 
 10  Ashok,Akash                     527    5.0 | +B53  +W31  -B3   +W22  -B15  +W33  +B24  |  26.0  28.5 
 11  Gong,Leo                        597    5.0 | +W56  +B33  -W1   +B38  +W21  -W6   +B23  |  25.5  27.5 
 12  Ong,Charis                      439    5.0 | +B55  +W49  -B14  +W45  -B5   +W28  +B26  |  24.0  26.0 
 13  Glick, Miles                      0    5.0 | -W20  +B59  +W41  -B23  +W40  +B43  +W19  |  21.0  23.0 
 14  Levine,Ezra                     749    4.5 | +W30  +B40  +W12  -W4   +B23  =W15  -B3   |  29.0  32.0 
 15  Smit,Mia Carina                   0    4.5 | +W41  +B23  +W20  -B2   +W10  =B14  -W5   |  29.0  32.0 
 16  Balakumar,Dhiyan                  0    4.5 | +B52  =W5   +B17  +W34  -B3   -W7   +B33  |  28.0  31.0 
 17  Rahul,Akshaj                      0    4.5 | +W43  =B19  -W16  +W53  +B34  -B8   +W35  |  23.5  26.0 
 18  Davoll,Dominic                  694    4.5 | -B31  +W39  -W19  =B35  +B36  +W34  +W25  |  22.5  25.5 
 19  Atkinson,Hamish                 473    4.0 | +B63  =W17  +B18  =W5   -B9   +W22  -B13  |  28.5  30.0 
 20  Richards,Huw                    630    4.0 | +B13  +W36  -B15  -B6   +W27  +W48  -B4   |  27.5  30.5 
 21  Kerr,Lennon                       0    4.0 | +B26  -W7   +B27  +W29  -B11  -W24  +W41  |  26.0  29.0 
 22  Gunawardena,Jineth              100    4.0 | +W9   -W3   +B57  -B10  +W44  -B19  +W46  |  26.0  28.0 
 23  Hou,Olivia                      353    4.0 | +B68  -W15  +B51  +W13  -W14  +B41  -W11  |  25.0  25.5 
 24  Chung,Avan                      331    4.0 | +W46  -B1   +W35  -B37  +W39  +B21  -W10  |  24.5  27.5 
 25  Wang,Albert Guo                 162    4.0 | +W60  -B2   +W56  -B8   +W46  +W29  -B18  |  24.5  26.0 
 26  Addison,William                 439    4.0 | -W21  +B66  +W30  -B33  +W47  +B37  -W12  |  22.5  23.5 
 27  Bandara,Chenuthi                  0    4.0 | +W44  -B6   -W21  +B56  -B20  +W39  +B50  |  22.0  24.0 
 28  Dhanak,Ishaan                     0    4.0 | -W6   -B44  +W60  +B59  +W38  -B12  +W43  |  21.0  22.5 
 29  Walker,Sebastian                487    4.0 | +W66  -B37  +W47  -B21  +W30  -B25  +W42  |  21.0  22.0 
 30  Dhilipkumar,Yojit                 0    4.0 | -B14  +W62  -B26  +W55  -B29  +W44  +B48  |  20.5  22.5 
 31  Garg,Keshav                       0    4.0 | +W18  -B10  -W38  +B65  -W41  +B58  +W40  |  20.5  21.5 
 32  Chao,Sean                         0    4.0 | +W65  -B8   -W9   -B39  +B53  +W55  +B49  |  20.5  21.5 
 33  Carvin,Leo                        0    3.5 | +B58  -W11  +B55  +W26  =W8   -B10  -W16  |  25.5  27.5 
 34  Watkins,Felix                   432    3.5 | +W64  +B50  =W6   -B16  -W17  -B18  +W37  |  24.5  25.5 
 35  Glick,Emil                        0    3.5 | -B5   +W58  -B24  =W18  +B54  +W38  -B17  |  24.0  26.0 
 36  Batay,Faruk                       0    3.5 | +W59  -B20  =W46  -B9   -W18  +B61  +B54  |  21.0  23.0 
 37  Singh,Harvigas                    0    3.0 | +B48  +W29  -B5   +W24  -B7   -W26  -B34  |  26.0  29.0 
 38  Perera,Kaviru                   286    3.0 | +B61  -W4   +B31  -W11  -B28  -B35  +W55  |  24.0  26.0 
 39  Hunter,Leon                       0    3.0 | -B7   -B18  +W58  +W32  -B24  -B27  +W59  |  23.5  25.5 
 40  Li,Jeremy                       100    3.0 | +B62  -W14  +B49  -W7   -B13  +W57  -B31  |  23.5  25.5 
 41  Cong,Kevin                      141    3.0 | -B15  +W63  -B13  +W57  +B31  -W23  -B21  |  23.5  25.0 
 42  Chong,Emma                        0    3.0 | -W2   -B9   +W61  -B50  +B60  +W52  -B29  |  23.0  24.5 
 43  To,Nathan                       301    3.0 | -B17  =W53  =B54  +W52  +B45  -W13  -B28  |  22.0  24.5 
 44  Varakina,Veronika                 0    3.0 | -B27  +W28  -B48  +W51  -B22  -B30  +W56  |  22.0  24.0 
 45  Chinbat,Chintugs                  0    3.0 | -W1   +B60  +W50  -B12  -W43  -B46  +W58  |  22.0  23.5 
 46  O'Connor,Xander                   0    3.0 | -B24  +W54  =B36  =W48  -B25  +W45  -B22  |  21.5  24.0 
 47  Chu,Minh Huy                      0    3.0 | -B3   +W68  -B29  +W49  -B26  -W50  +B60  |  21.5  22.0 
 48  Garrad,Saxon                    295    3.0 | -W37  =B64  +W44  =B46  +W50  -B20  -W30  |  20.0  21.0 
 49  Walker,Samantha                   0    3.0 | +W67  -B12  -W40  -B47  +W64  +B56  -W32  |  20.0  21.0 
 50  Togtmol,Uudamkhishig              0    3.0 | +B54  -W34  -B45  +W42  -B48  +B47  -W27  |  19.5  22.0 
 51  Deng,Amy                          0    3.0 | -B4   +W61  -W23  -B44  -W58  +B65  +B62  |  18.5  19.5 
 52  Tun,Aaron                         0    3.0 | -W16  -B56  +W66  -B43  +W61  -B42  +B57  |  16.5  17.5 
 53  Kang,Kevin                        0    2.5 | -W10  =B43  +W64  -B17  -W32  -W54  +B66  |  20.0  21.0 
 54  Balakumar,Deesithan               0    2.5 | -W50  -B46  =W43  +B64  -W35  +B53  -W36  |  18.5  19.5 
 55  Kioka,Rintaro                     0    2.0 | -W12  +B67  -W33  -B30  +W65  -B32  -B38  |  22.5  23.5 
 56  Hofmann,Cya                       0    2.0 | -B11  +W52  -B25  -W27  +B62  -W49  -B44  |  22.0  24.0 
 57  Hou,Dylan                         0    2.0 | -W8   +B65  -W22  -B41  +W59  -B40  -W52  |  20.0  21.0 
 58  Yan,Xuerui                        0    2.0 | -W33  -B35  -B39  +W68  +B51  -W31  -B45  |  20.0  20.5 
 59  Zhang,Aaron                       0    2.0 | -B36  -W13  +B63  -W28  -B57  +W64  -B39  |  19.0  20.0 
 60  Slater,Jensyn                     0    2.0 | -B25  -W45  -B28  +BYE  -W42  +B66  -W47  |  18.5  19.5 
 61  Slater,Hunter                     0    2.0 | -W38  -B51  -B42  +W63  -B52  -W36  +W65  |  17.0  18.0 
 62  Togtmol,Turmunkh                  0    2.0 | -W40  -B30  -W67  +B66  -W56  +B63  -W51  |  16.5  17.5 
 63  Kennedy,Priya                     0    2.0 | -W19  -B41  -W59  -B61  +BYE  -W62  +B68  |  14.0  14.5 
 64  Lim,Zechariah                     0    1.5 | -B34  =W48  -B53  -W54  -B49  -B59  +BYE  |  16.5  17.0 
 65  Zhou,David                        0    1.0 | -B32  -W57  +B68  -W31  -B55  -W51  -B61  |  17.0  17.5 
 66  Kennedy,Patra                     0    1.0 | -B29  -W26  -B52  -W62  +B68  -W60  -W53  |  17.0  17.5 
 67  Bardot,Louka               (W)    0    1.0 | -B49  -W55  +B62   --    --    --    --   |  16.0  18.0 
 68  Minnaar,Michael                   0    1.0 | -W23  -B47  -W65  -B58  -W66  +BYE  -W63  |  12.5  13.0  





The Primary school section saw a huge contingent, with 68 players from 23 different schools. Our highest turnout ever and a testament to the increasing popularity of chess in our Primary schools.

The pressure was strong as this final event for the year would determine the finalists and due to the closeness of the previous event it was sure to be a tightly fought contest. At the end of the day the top three primary schools were in 3rd Oberthur Primary School with 18 points. Two points clear and in equal 1st were Midland Home School and winning the day was Nedlands Primary School who took out the title on count back with a final score of 20. As usual these results were indeed very tight and showed just how closely each game played impacted the final result. This meant that many interesting games occurred and some great results were attained.

Strong performances also by Lake Joondalup Primary, Carmel Primary and Caladenia Primary saw them fall just short of a top three spot.

Well done to all players for making it such a highly contested event.

The top primary school performers for the day were Liam Raptis, Angus Chen and Eric Deng, all scoring a great score of 6.0 out of 7. Closely followed by Southern Zonal winner Issa Majidi and his brother Nizam on 5.5. The Best Girl was Nithuli Liyange.

List of Primary School Prize Winners:

1st: Nedlands Primary School (20.0) - Issa Majidi (5.5), Nizam Majidi (5.5), Nithuli Liyanage (5.0), Olivia Hou (4.0), Faruk Batay (3.5), Minh Huy Chu (3.0), Emma Chong (3.0), Cya Hofmann (2.0), Xuerui Yan (2.0), Priya Kennedy (2.0), Kioka Rintaro (2.0), Dylan Hou (2.0), Patra Kennedy (1.0)

2nd: Midland Home School (20.0) - Liam Raptis (6.0), Oliver Tang (5.0), Miles Glick (5.0), Lennon Kerr (4.0), Emil Glick (3.5), Saxon Garrad (3.0), Jensyn Slater (2.0), Hunter Slater (2.0), Louka Bardot (1.0), Michael Minnaar (1.0)

3rd: Oberthur Primary School (18.0) - Angus Chen (6.0), Leo Gong (5.0), Avan Chung (4.0), Jeremy Li (3.0), Zechariah Lim (1.5), David Zhou (1.0)

The top four players from each of these teams won a trophy





Well done again to all players involved. I hope you all enjoyed the day.



Secondary Student Division


Secondary School Team Ranking
(Team ranking based on 4 best players of each team)



 Pos Team Name          Points
 -----------------------------
  1  Rossmoyne SHS       23.0
  2  Perth Mod           19.0
  3  Harrisdale SHS      15.5
  4  Christchurch GS     12.0
  5  Shenton College     11.0
  6  Bob Hawke Colle      9.5
  7  Aquinas College      9.0
  8  Wesley College       5.0
  9  Kingsway CC          4.5
 10  Greenwood Colle      4.5
 11  Perth Mod            4.0
 12  Lumen Christie       3.5
 13  Sacred Heart C       3.0
 14  Dianella SC          3.0
 15  Woodvale SC          3.0
 16  Midland HmS          2.5 

Secondary School Individual Cross Table

 Pos NAME                           Rtg     Pts |   1     2     3     4     5     6     7   |  Buc1  BucT  
 -------------------------------------------------------------------------------------------------------- 
  1  Fu,Yihe (Rebo)                 2408    7.0 | +B15  +W10  +B11  +W14  +B9   +W4   +W3   |  27.5  31.5 
  2  Teh,Rui Gen                    1722    7.0 | +B25  +W16  +B3   +W4   +B24  +W14  +B9   |  26.0  29.5 
  3  Khaw,Eu Jin                    1241    5.0 | +W21  +B13  -W2   +B18  +W8   +W7   -B1   |  32.5  36.5 
  4  Rafiei Darani,Daryoush         1220    5.0 | +B35  +W29  +B7   -B2   +W15  -B1   +W19  |  29.5  32.0 
  5  Koh,Shannon                    1314    5.0 | +B33  +W38  =B9   -W24  +B11  +W13  =B6   |  25.0  27.5 
  6  Pimenov,Alex                   1282    5.0 | +B46  =W24  +B12  -W9   +B28  +B27  =W5   |  23.5  24.0 
  7  Harirajesh,Barath              1326    5.0 | +W41  +B43  -W4   +B17  +W27  -B3   +W15  |  23.0  25.0 
  8  Oliveiro,Rayden                 670    5.0 | -W39  +B21  +W40  +B10  -B3   +W37  +B14  |  22.0  23.5 
  9  Gao,Oscar                      1833    4.5 | +W20  +B19  =W5   +B6   -W1   +B24  -W2   |  32.0  35.5 
 10  Lee,Lucas                       938    4.5 | +B36  -B1   +W20  -W8   +B22  +W31  =B12  |  27.5  30.5 
 11  Singh,Jayden                   1308    4.5 | +W31  +B32  -W1   =B37  -W5   +B25  +W17  |  25.5  28.0 
 12  Ong,Celine                     1399    4.5 | +W22  -B17  -W6   +B40  +W32  +B18  =W10  |  24.5  26.0 
 13  Kelly,Ethan                       0    4.5 | +B28  -W3   =B38  +W30  +W37  -B5   +W24  |  22.0  24.5 
 14  Hernandez Mendez,Iker          1392    4.0 | +B30  +W37  +B27  -B1   +W19  -B2   -W8   |  29.0  31.5 
 15  Tang,Windson                    427    4.0 | -W1   +B23  +W34  +B38  -B4   +W28  -B7   |  26.5  29.0 
 16  Gruber,Paula                    937    4.0 | +W40  -B2   -W31  +B21  +W20  -B17  +W30  |  25.0  26.5 
 17  Pean,Kang Wei                   736    4.0 | +B42  +W12  -B24  -W7   +B41  +W16  -B11  |  23.5  25.5 
 18  Kit,Jaykerm                     695    4.0 | -B24  +W35  +B33  -W3   +B39  -W12  +B31  |  21.5  23.5 
 19  Bui,Anthony                     909    4.0 | +B44  -W9   +B30  +W39  -B14  +W29  -B4   |  21.0  22.5 
 20  Dhilipkumar,Manunithish         424    4.0 | -B9   +W36  -B10  +W42  -B16  +W39  +B29  |  20.5  22.5 
 21  Cavosie-Pletsch                   0    4.0 | -B3   -W8   +B44  -W16  +B47  +B43  +W32  |  20.5  21.0 
 22  Pean,Kang Yong                  389    4.0 | -B12  +W44  -B28  +W47  -W10  +B42  +W27  |  18.5  19.0 
 23  Chong,Seth                        0    4.0 | -B27  -W15  -B42  +W46  +B34  +W41  +B28  |  16.5  17.0 
 24  Morton,Joseph                     0    3.5 | +W18  =B6   +W17  +B5   -W2   -W9   -B13  |  30.0  34.0 
 25  Devine,Ablai                    398    3.5 | -W2   -B40  =W26  +B45  +W38  -W11  +B37  |  22.0  23.5 
 26  Lanka,Venkat                      0    3.5 | -B37  -W30  =B25  +W35  -W29  +B38  +W43  |  16.5  18.5 
 27  Lim,Jin Yu                     1157    3.0 | +W23  +B39  -W14  +B31  -B7   -W6   -B22  |  25.0  27.0 
 28  De Gaye,Henry                   825    3.0 | -W13  +B46  +W22  +B29  -W6   -B15  -W23  |  24.0  24.5 
 29  Williams,Flynn                    0    3.0 | +BYE  -B4   +W32  -W28  +B26  -B19  -W20  |  22.5  25.5 
 30  Alhendawl Almasalma,Mohammad      0    3.0 | -W14  +B26  -W19  -B13  +W40  +B45  -B16  |  22.0  23.5 
 31  Ashok,Anish                       0    3.0 | -B11  +W47  +B16  -W27  +W43  -B10  -W18  |  22.0  22.5 
 32  Kwok,Rupert                     595    3.0 | +B34  -W11  -B29  +W36  -B12  +W33  -B21  |  21.5  24.0 
 33  Arunkumar,Ashwath                 0    3.0 | -W5   +B45  -W18  -B43  +W44  -B32  +W42  |  18.0  19.5 
 34  Vinci,Jonathan                    0    3.0 | -W32  +BYE  -B15  -B41  -W23  +B40  +W45  |  17.5  19.0 
 35  Champness,Matthew                 0    3.0 | -W4   -B18  -W45  -B26  +BYE  +W47  +B39  |  17.5  18.0 
 36  Csontos,David                     0    3.0 | -W10  -B20  +W46  -B32  -W45  +B44  +W41  |  17.0  17.5 
 37  Sulak,Asten                     722    2.5 | +W26  -B14  +W41  =W11  -B13  -B8   -W25  |  25.0  27.0 
 38  Yan,Ben                         621    2.5 | +W45  -B5   =W13  -W15  -B25  -W26  +B47  |  22.5  23.0 
 39  Pradhan,Aarnav                    0    2.0 | +B8   -W27  +W43  -B19  -W18  -B20  -W35  |  22.5  24.5 
 40  Kettle,Hayden                     0    2.0 | -B16  +W25  -B8   -W12  -B30  -W34  +BYE  |  22.5  23.5 
 41  An,Jeremy                         0    2.0 | -B7   +W42  -B37  +W34  -W17  -B23  -B36  |  21.0  23.0 
 42  Morrow,Jacob                      0    2.0 | -W17  -B41  +W23  -B20  +B46  -W22  -B33  |  21.0  21.5 
 43  Chung,Adam                      634    2.0 | +B47  -W7   -B39  +W33  -B31  -W21  -B26  |  20.5  21.0 
 44  Koay,Isaac                        0    2.0 | -W19  -B22  -W21  +BYE  -B33  -W36  +B46  |  19.5  20.0 
 45  Napaa,Mohit                       0    2.0 | -B38  -W33  +B35  -W25  +B36  -W30  -B34  |  17.5  20.0 
 46  Babu,Chris Gregory                0    1.0 | -W6   -W28  -B36  -B23  -W42  +BYE  -W44  |  18.5  19.0 
 47  Senara,Sohansa                    0    1.0 | -W43  -B31  +BYE  -B22  -W21  -B35  -W38  |  18.0  20.0 






With all players back from tournament play the secondary competition with 16 schools and 47 players produced some great chess. Some games were hotly contested as every result was likely to play an impact on the schools that successfully reached the finals.

The end result saw an overwhelming victory to Rossmoyne SHS, with two of their players, Yihe (Rebo) Fu and Rui Gen having unbeaten scores of 7.0 out of 7.

Southern Zonal winners Perth Modern School finished strongly in second and a great performance from Harrisdale Senior High School saw them finish in third place and secure themselves a place in next month's finals.

As already mentioned, the top two Secondary school performers were Yihe Fu (Rebo) and Rui Gen Teh. Third was Eu Jin Khaw and the Best Girl was Celine Ong.

List of Secondary Prize Winners:

1st: Rossmoyne Senior High School (23.0) - Rebo Fu (7.0), Teh Rui Gen (7.0), Barath Harirajesh (5.0), Jaykerm Kit (4.0), Manunithish Dhilipkumar (4.0), Seth Chong (4.0)

2nd: Perth Modern School (19.0) - Alex Pimenov (5.0), Rayden Oliveiro (5.0), Jayden Singh (4.5), Ethan Kelly (4.5), Windson Tang (4.0), Paula Gruber (4.0), Anthony Bui (4.0), Kang Yong Pean (4.0), Jeremy An (2.0), Adam Chung (2.0), Mohit Napaa (2.0)

3rd: Harrisdale Senior High (15.5) - Eu Jin Khaw (5.0), Kang Wei Pean (4.0), Venkat Lanka (3.5), Ashwath Arunkumar (3.0), Aarnav Pradhan (2.0), Hayden Kettle (2.0) Chris Gregory Babu (1.0), Sohansa Senara (1.0)

The top four players from each of these teams won a trophy





And so now with the last SCL having been played for the year, the teams to reach the finals have been confirmed. The finals are scheduled to take place on Monday 22nd August at Perth Modern School.

Report kindly provided by Dylan Gough.



---

2022 SCL Finals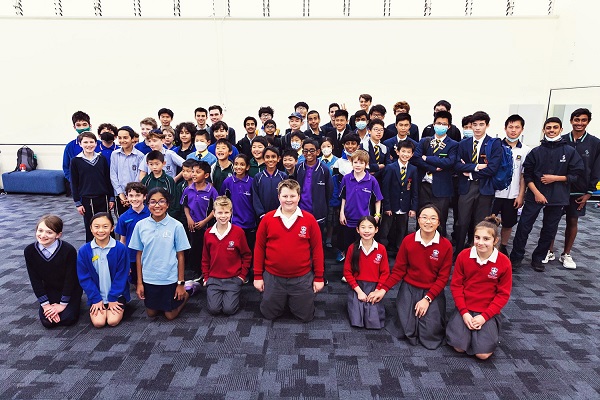 (More photos below in the 2022 SCL Finals Photo Gallery)



There was a very good turnout for the School Chess League Finals which were held on Monday 22nd August at Perth Modern School. Eight Primary and six Secondary Schools competed for the chance to represent Western Australia in the 2022 National School Finals. Both divisions were run as a team round robin format. Players were ranked in approximate playing strength and each school's board 1 played each other school's board 1, etc.

The Primary division used an Allegro time limit of 15 minutes plus two seconds with seven rounds. This division developed into a very close race between Caladenia, Nedlands and Oberthur Primary Schools. Oberthur (last year's champions) started well beating Carmel convincingly, drawing with Nedlands and then narrowly beating Lake Joondalup and Kingsway, then faltering in the penultimate round losing to Caladenia. Nedlands also started well beating Midland Home School, drawing with Oberthur and Carmel, then beating Lake Joondalup, Mt Lawley and Kingsway. Caladenia started slowly drawing with Lake Joondalup, then beating Mt. Lawley, Kingsway, Midland and Oberthur in the penultimate round. Carmel had the potential to do better, their slow start did not help but they drew with Nedlands, narrowly lost to Caladenia, beat Kingsway, Lake Joondalup, Midland and Mt Lawley, (maybe it was just not their day).

So going into the final round Caladenia were leading by half a point on 5.5 ahead of Nedlands on 5 and Oberthur on 4.5. In the last round Oberthur beat Midland and moved up to 5.5 points. The key match and the last to finish was Caladenia versus Nedlands with Caladenia needing just a match draw to be champions but this was not to be as Nedlands won 2.5 to 1.5. This meant Nedlands Primary School were the sole leaders on 6 points and became the 2022 Primary School champions. Caladenia Primary School ended up with the same match and game points as Oberthur Primary School but took second place by virtue of their win against Oberthur. An exciting end to a gripping contest. Other placings were fourth Carmel Primary School, fifth Lake Joondalup Baptist College, sixth Kingsway Christian College, seventh Mt Lawley Primary School and eighth Midlands Home School.

Congratulations to Nedlands Primary School this year's Primary School Champions. All teams acquitted themselves well and there were many closely fought games throughout all the match ups.



Primary School Leaderboard



SCHOOL                              MATCH POINTS   GAMES POINTS

NEDLANDS PRIMARY SCHOOL                 6.0            20.5
CALADENIA PRIMARY SCHOOL                5.5            19.5
OBERTHUR PRIMARY SCHOOL                 5.5            19.5
CARMEL PRIMARY SCHOOL                   4.5            17.5
LAKE JOONDALUP BAPTIST COLLEGE          3.0            12.5
KINGSWAY CHRISTIAN COLLEGE              2.0             9.5
MT LAWLEY PRIMARY SCHOOL                1.0             6.0
MIDLANDS HOME SCHOOL                    0.5             6.5





The Secondary division used a quickplay play time limit of 20 minutes plus 3 seconds with six rounds. Rossmoyne Senior High School were the dominant school and won all five matches. Their closest match was against Christchurch Grammar School who narrowly lost 1.5 to 2.5. Perth Modern School (last year's champions) came second and Christchurch Grammar School were third. Shenton College came fourth a credible performance which included a draw with Perth Modern. Fifth was Harrisdale Senior high School and sixth Wesley College.



Secondary School Leaderboard



SCHOOL                              MATCH POINTS   GAMES POINTS
		
ROSSMOYNE SENIOR HIGH SCHOOL            5.0            16.5
PERTH MODERN SCHOOL                     3.5            13.5
CHRISTCHURCH GRAMMAR SCHOOL             3.0            11.5
SHENTON COLLEGE                         2.0             8.0
HARRISDALE SENIOR HIGH SCHOOL           1.0             5.5
WESLEY COLLEGE                          0.5             4.5





Congratulations to Rossmoyne Senior High School this year's Secondary School Champions a strong team that could do well in the forthcoming National Schools championships!

List of prize winners:

Primary School 1st place team: Nedlands Primary School - Issa Majidi, Nithuli Liyanage, Nizam Majidi, Olivia Hou

Primary School 2nd place team: Caladenia Primary School - Yonal De Vas, Senudi De Vas, Sebastian Walker, Jineth Gunawardena, Leo Carvin

Primary School 3rd place team: Oberthur Primary School - Angus Chen, Avan Chung, Leo Gong, Jeremy Li, Ford Cu

Primary School Board 1 prize: Angus Chen 6.0/7

Primary School Board 2 prize: Nithuli Liyange 5.5/7

Primary School Board 3 prize: Nizam Majidi 7.0/7

Primary School Board 4 prize: Yonatan Kitay 6.0/7

Primary School Top Girl: Nithuli Liyange

Primary School Merit Awards: Leo Carvin, Kevin Cong, Eric Deng, Senudi De Vas, Issa Majidi, Charis Ong, Marcus Van Den Berg, Sebastian Walker

Secondary School 1st place team: Rossmoyne Senior High School - Yihe Fu (Rebo), Rui Gen Teh, Marco Gunawan, Barath Harirajesh, Manunithush Dhilipkumar

Secondary School 2nd place team: Perth Modern School - Thyler Cung, Alex Pimenov Jayden Singh, Aarnav Gupta, Minh Nguyen

Secondary School 3rd place team: Christchurch Grammar School - Oscar Gao, Jeremiah Wang, Andy Wu, Sebastian Thong, Aiden Tan

Secondary School Board 1 prize: Yihe Fu (Rebo) and Oscar Gao 4.5/5

Secondary School Board 2 prize: Rui Gen Teh, 4.5/5

Secondary School Board 3 prize: Jayden Singh 5.0/5

Secondary School Board 4 prize: Aarnav Gupta and Barath Harirajesh 4.0/5

Secondary School Merit Awards: Marco Gunanwan and Andy Wu Walker


Tournament results can be accessed from the links below:



Special thanks go to the hard-working CAWA Volunteers:

Saminda De Vas, Jason Gray, Celine Ong, Glenda Raptis, Jennifer Wang and to Perth Modern School for providing such an excellent venue in particular Craig Gannon for all the help provided in making this such a smooth flowing event. Special mention to two Secondary students who used their own initiative and organised their school teams, (Daryroush Rafiei Darani - Shenton College and Oscar Gao - Christchurch Grammar School). Finally, thanks to all players, parents and school coordinators who made this such a memorable and pleasant occasion.

Report kindly provided by Alan Wolstencroft - Chief Arbiter



2022 SCL Finals Photo Gallery





---

2022 SCL Girls Finals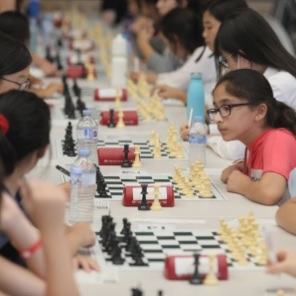 The 2022 School Chess League Girls Finals were held on Sunday the 18th of September at Royal Park Hall, 180 Charles Street, West Perth, WA 6005.

It was encouraging to see 28 players from 10 primary schools and 9 players from four secondary schools participating. This event was made possible by the helpful volunteers and parents. All players played 7 games (15 minutes with 3 seconds increments per move) against members of other teams via standardized pairing system.

Perth Modern School girls won the secondary division. Their best player, Anoushka Gupta, won all her games and took home the best secondary individual girls' trophy.

Nedlands Primary School girls won the primary division, and Senudi De Vas from Caladenia Primary School won the best primary individual girls trophy. Kingsway Christian College and Caladenia Primary School came 2nd and 3rd respectively.

Report kindly provided by: Faith Tee - CAWA Junior Vice President



---